Hey it's nice to meet you...
My name is Tom and I'd love to share a little about what happens around here.
This website is a place where people come to learn about improving their movement. You see, I had a journey with chronic pain (more on this later) and I learned how to let go of it and move with ease again. I completed a 4 year Feldenkrais training program and now I share many of the amazing tools I learned with the people in my community.
I specifically love helping people who...
Are interested in keeping their own body healthy and thriving.
Already have practices and habits that support their overall health and wellbeing (perhaps Yoga, martial arts, parkour, dance, pilates, meditation or other)
Are experiencing pain or difficulty with their movement
I love being able to help people shift and upgrade their movement patterns - out of pain and into ease. For me, that look of surprise on someone's face when someone realises how differently they're moving is what I live for!
If that sounds like you then you may be interested in the free offering I have below. It's the first place I usually send new visitors and it gets right to the heart of what I'm all about.
FREE! 20 Minute Body Reset
First step - learn to uncover your personal postural imbalances. Second step - push the reset button to even them out. This method will help you relieve pain and tension, improve your posture and regain freedom of movement. Click here to learn more.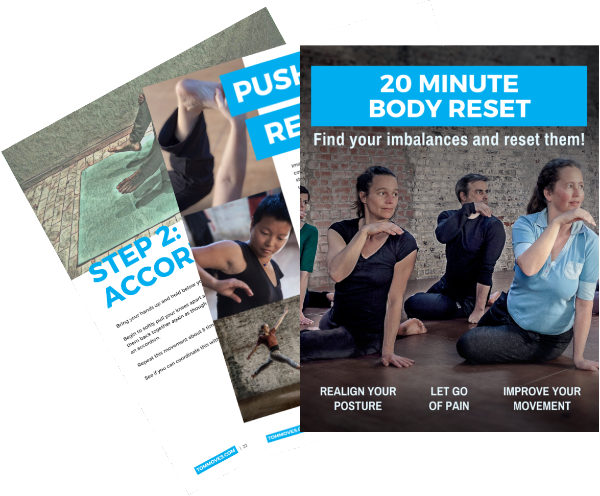 A little bit about me
As I mentioned before, I had a journey with chronic pain. It was so bad I wasn't able to walk for months on end. I went to see physiotherapists and other bodyworkers. I spent a lot of money trying to get better. None of the results lasted for very long.
Once I discovered Feldenkrais and the incredible effects that it had on my pain I was hooked. I immediately signed up to train as a practitioner and haven't looked back since.
I have a background in other physical disciplines too. Stuff like kempo (martial art), Yoga, qigong, parkour, dance, self-massage etc... These all feed into my offerings which you'll see sprinkled around my site.
Other fun passions I have (which you can see on my instagram account) include...
Growing food forests
Earth building
Exploring community and human connection
Hunting and foraging
Sillyness and games
Glad to meet you and I look forward to connecting more.