Book A One-On-One With Tom
Usually on this page I would take bookings to work with people one-on-one.
However I have moved out of the clinic where I was working in Te Atatu. I'm currently setting up a clinic space in my strawbale home in Oratia, West Auckland. My intention is to be able to work from there by the end of February 2021.
If you are interested in working with me, please send me a message on the form below to let me know. That way, when the space is all finished I can get in touch with you and we can find out if we're going to be a good match for working together.
Or if you are still unsure about if I can help you with your needs then read on. Below is a list of the types of things that I can help with and also a video which will give you an idea of what it's like to work with me.
The type of things that people usually come to me for are...
Pain - Back pain, neck pain, shoulder pain, hip pain, etc... Basically any kind of joint pain.
Difficulty with a particular movement. Maybe walking, going up stairs, a specific yoga pose?
Balance or coordination struggles
Postural imbalances - something that feels out-of-whack but you can't seem to straighten it out
Fatigue - sometimes bodies feel heavy and tired for no logical reason.
Re-learning movement after injuries - often people develop compensatory movement patterns which stick around long after the injury has healed.
People also come to see me not because of a problem but because they know how important it is to keep connected with their bodies and to have bodywork as a life-long learning practice
I use a combination of qigong, feldenkrais and my whole life experience to help improve your situation. I take a holistic approach to you and your body - that means everything about you is connected and related to every other thing. That's why fixing a sore pelvis is not usually a problem IN your pelvis... it might be your ribs, or your shoulder or some other aspect of your life. My job is to enter into connection with you, feel where things are blocked and help support you in whatever way is required so that you can let go of those blocks.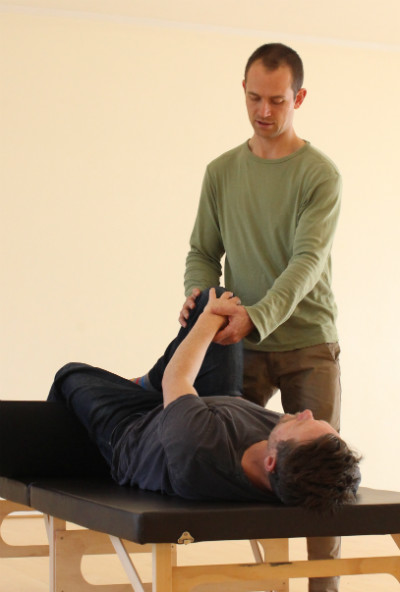 What does a One-On-One session look like?
Check out the video below for a high speed example of a session
Other clients have described how this process feels with words like connected, grounded, light, aligned, balanced, alive, coming home...
That is the essence of what I can help with and how I work. If it sounds like working with me might be useful for you in your life just send me a message below and I'll contact you as soon as my clinic space is ready again.
Fill out the form if you're interested in working with me